Original pins:
http://www.myrtleandeunice.com/2011/04/how-to-make-easter-chick.html
and so I needed a quick review of the blanket stitch. . .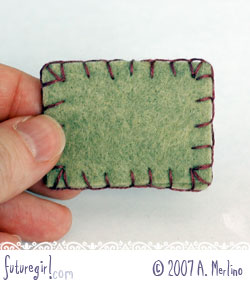 http://www.futuregirl.com/craft_blog/2007/9/tutorial-hand-sew-felt.aspx
Mine are nowhere near as cute as the original creators. Sticking to my craft budget, I used the leftover felt from
Superhero Cape Day
and picked up some floral wire at the dollar store. Toss in a couple of cotton balls for stuffing (didn't have any polyfill on hand) and, well, it just isn't quite as professional looking. Don't get me wrong, I still think they are cute as all get out. Mine are more on the whimsical (abstract) side of life. Not too bad for my first blanket stitch project though.
I thought they would be much bigger, but they are teeny, tiny. Itty bitty. Cute little buggers.
A bunch of sitting ducks before eyes and feet.
The cotton didn't fill them up full. I was a little scared to pack it too full since it was cheap felt and I was afraid it might rip! So they are just hungry little Easter chicks!
The feet were the hardest part of all! The thick floral wire was difficult to shape into three toes with a back toe, so some of the chicks only got three toes total! Here they are, hanging out on my mantel. Sadly, this is the extent of my Easter decor this year. I guess it's a start!
Total cost: $1
Total time: 1 hour 30 minutes for three
Final verdict: Cute, but quality materials would make them cuter. I might try to make them a tad bigger but then they might not stand up. I love them anyway!