Original pin: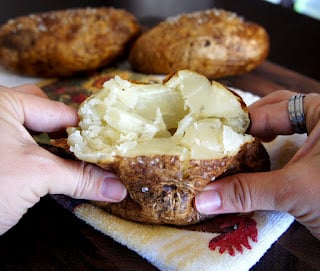 http://iwashyoudry.com/2012/05/02/how-to-wednesday-baking-a-potato/
Outback-style baked potato.
I love a good baked potato. I have been craving them lately. Have I mentioned on here that I have been training for a half-marathon lately? I guess my body is needing some carbohydrates because I can't seem to get enough baked potatoes lately.
Like a few other foods (tomato sauce, pizza crust, buttermilk biscuits, etc.) I am a little snobby about their preparation. I do not like baked potatoes made in the microwave. They must be slow baked. They have to be the perfect done-ness, with the perfect distribution of toppings, and the perfect texture.
In the time since I first tried these and this post I have made this potato three times now. It is simple--really, how complicated can a baked potato get? I followed the directions, and one hour later pulled this puppy out of the oven:
Sliced it open and squeezed it up a little to prepare it for the barrage of toppings headed its way.
It was perfect and delicious. I actually forgot I was posting this and ate it up without taking photos of the finished potato with all the toppings so I dreamed up this one for you:
The brown is bacon pieces. I couldn't draw bacon pieces.
I am not usually a potato skin eater when it is a baked potato but for the sake of the pin I did eat some of it. It definitely had much more flavor than if I hadn't put anything on it at all but it didn't convert me to a skin eater. Yet I have continued to prepare my potatoes this way. I can't put my finger on it. What is different? Not sure, but it is delicious. I don't really make potatoes that often because my husband doesn't love them (when you only put butter on them it just isn't the same...) and sometimes I get impatient waiting for them to finish. I have found myself making these during the week when I am home alone for lunch. Mmmmm. This post is making me hungry. I think I'll go make a potato now.
Total cost: $3 for two weeks worth of potatoes
Total time: Minutes to prep, baking about 1 hour
Final verdict: I love it. I will not go back to making my potatoes plain. If I ever figure out what it is that makes these so irresistible even without eating the skin, I'll let you know. Try them! I'll bet you have oil and salt in the pantry now. GO!